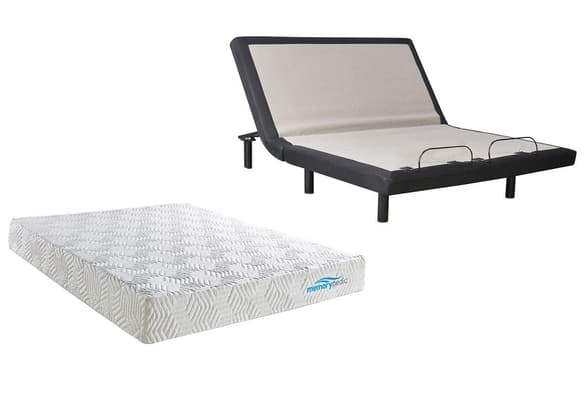 MemoryPedic M 1.0 Queen Mattress w/Essential Adjustable Base
Package includes:
If purchased separately
Save
The MemoryPedic M 1.0 has an 8-inch profile and is designed for the ultimate in comfort and support starting with the top layer of 1? of MemoryPedic Foam that conforms to the contours of your body. Tossing and turning are dramatically diminished and disrupted sleep patterns greatly eliminated. Thus, you sleep longer without moving, in a more comfortable position and enjoy the benefits of a deeper, more restful sleep pattern. The 7? support base layer maintains the strength and effectiveness of the layers. The two layers work together to bring you the relaxation you crave and the ultimate sleeping experience. The M 1.0 is covered with a beautifully detailed stretch knit fabric that is designed to work with the memory foam layer to optimize its contouring properties. The zippered cover can be easily removed and can be washed. The Essential Queen Adjustable base transforms your bed into more than just a place to sleep. By using this base, you can experience ideal comfort and support, no matter what you're doing in bed. Whether it's catching up on emails, reading a book, or watching your favorite television show, the base adapts perfectly to your situation, allowing you to experience a level of comfort that you won't find elsewhere. The Classic adjustable base works with both head and foot rails and includes headboard mounting brackets. The head adjustments work independently to allow for infinite positions. The one-touch return to flat position on the wireless remote makes it easy to reset your bed. Take your sleep to the next level with the Classic Queen Adjustable base.