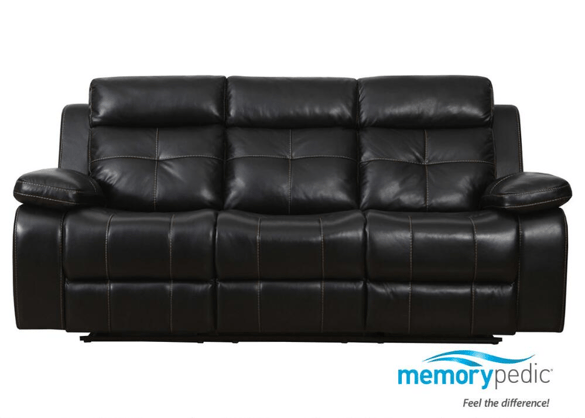 Top Billing. Our Nirvana Reclining Sofa brings top-notch comfort together with winning style. Upholstered in a durable faux leather which is a breathable material so it stays cool in the summer and warm in the winter. Plush cushions are filled with 2.2 density foam combined with a 2.8 density MemoryPedic Foam core offering just the right amount of give for the perfect comfort level. Chaise pad recliners provide cradling support with no gaps in the seat while you kick back and relax. A Magic Black finish, contrast stitching flush, reclining mechanism give the versatile design an up-to-date look.
Height: 40.50
Width: 85.00
Length: 40.00
Color: Black
Material: Faux Leather
Reclining Info: Non Power
Clean only with water based shampoo or foam upholstery cleaner. Do not use solvents or over saturate. Pile fabrics may require brushing with a nonmetallic, stiff bristle brush to restore appearance. Cushion covers should not be removed and dry cleaned.