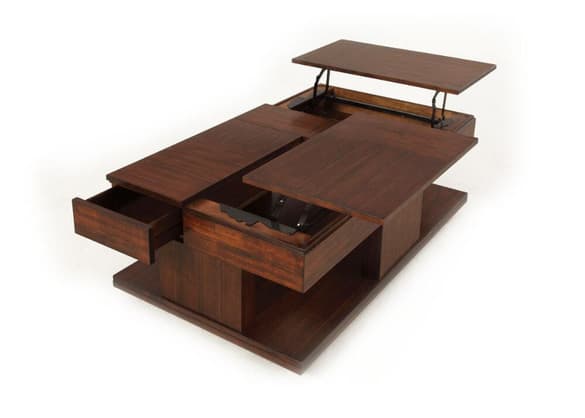 Our Le Mans cocktail table is a contemporary styled piece that will deliver shine and unique design to your living room area. Structural areas are constructed of birch wood solids and exposed areas are covered by Mozambique veneers in a beautiful, medium merlot finish. The 20 sheen lacquer topcoat on the table surface creates a beautiful shine. Full panel base and uprights provide stability. Table features two lift-top surfaces that can transform the cocktail table into a working station or a more comfortable eating area. Hidden drawer on the table end enables you to store your remote control. Casters enable easy mobility of the table and protect your floors. The Le Mans cocktail table is a versatile piece that will add functionality to your living room area.
Height: 18.00
Width: 28.00
Length: 48.00
Material: Wood
Style: Contemporary
Contemporary style table.
Constructed of birch wood solids and Mozambique veneers in medium merlot finish.
20 sheen lacquer topcoat.
Two lift-top surfaces.
Hidden drawer on table end.