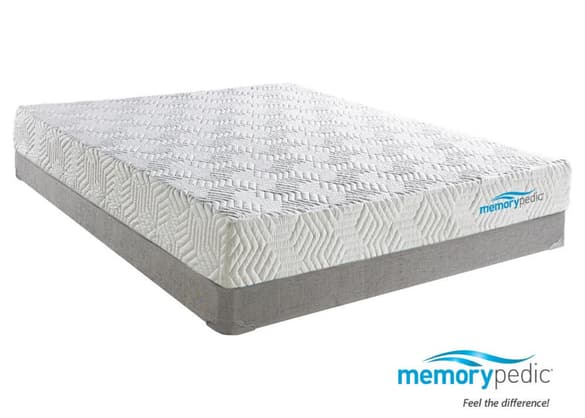 MemoryPedic M 1.0 Queen Low Profile Mattress Set
Package includes:
If purchased separately
Save
The MemoryPedic M 1.0 has an 8-inch profile and is designed for the ultimate in comfort and support starting with the top layer of 1? of MemoryPedic Foam that conforms to the contours of your body. Tossing and turning are dramatically diminished and disrupted sleep patterns greatly eliminated. Thus, you sleep longer without moving, in a more comfortable position and enjoy the benefits of a deeper, more restful sleep pattern. The 7? support base layer maintains the strength and effectiveness of the layers. The two layers work together to bring you the relaxation you crave and the ultimate sleeping experience. The M 1.0 is covered with a beautifully detailed stretch knit fabric that is designed to work with the memory foam layer to optimize its contouring properties. The zippered cover can be easily removed and can be washed.