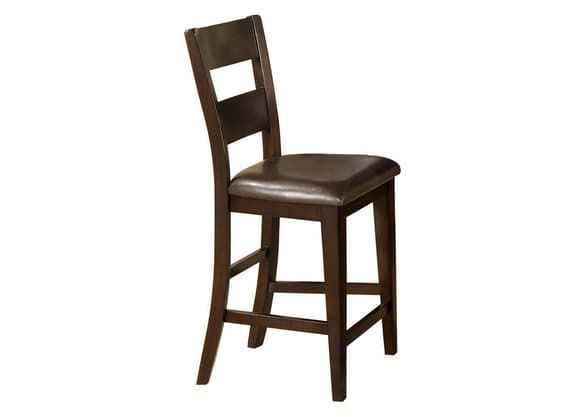 Nicki 24" Counter Height Stool
Social Setting. Gather for mealtime chats with our friendly, fashionable Nicki chair. A distressed espresso brown finish and tapered legs combine for classic styling, while the comfortable seat boasts smooth faux leather padded cushion and wide slat back. Stippling throughout, notched details and a counter height enhance the casual appeal.
Height: 43.00
Width: 22.00
Length: 19.00
Color: Cherry
Material: Faux Leather
Style: Traditional
Table Height: Counter
This versatile chair showcases a strong slat back, comfortable faux leather seat, sturdy stretchers and handy footrest.
The counter-height styling is well suited for casual settings.
A distressed espresso finish brings compelling visual interest to the simple design.
Keep it clean - Dust and vacuum often using a crevice tool in seams.
for weekly dusting, use a clean, soft, lint-free cloth slightly dampened with distilled water and wipe area gently and wipe dry with a clean dry cloth.
Avoid direct exposure to sunlight. Direct prolonged exposure to the sun will cause material to fade.
keep furniture at least 12" away from radiators and other heat sources. Avoiding intense heat will help prevent drying and cracking.
For minor spots and spills, wipe up any excess liquid immediately with a clean absorbent cloth or sponge. Blot, do not rub the stain. Contact a professional cleaning service for more difficult stains or contact your warranty provider as soon as they occur.
Do not use saddle soap, cleaning solvents, furniture polish, oils, varnish, abrasive cleaners, detergent sofas, bleach or ammonia water.