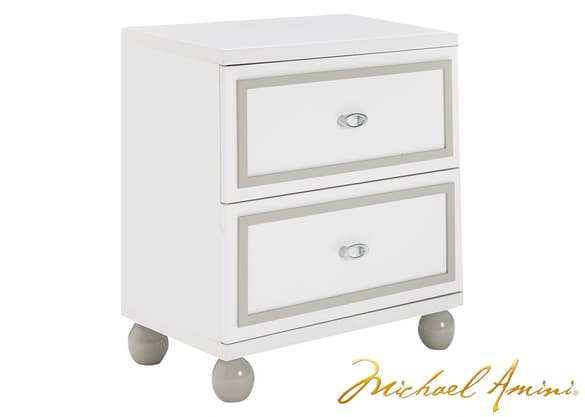 Sky Tower 2 Drawer Nightstand by Michael Amini

Sky Tower 2 Drawer Nightstand by Michael Amini
*This collection is on display at the below showrooms. Please call store ahead of time to ensure availability.
| STORE NAME | ADDRESS | MAP | PHONE |
| --- | --- | --- | --- |
The Sky Tower Nightstand has a flair for fashion and is built to portray an airy cloud like feel. The shiny surface, light gray accent molding and stainless steel hardware reflects a glamorous era. The nightstand is built with super a durable acrylic finish and has soft closing glides. By combining classic glitz with minimalist details of modern design, the Sky Tower Collection sets itself apart.
Height: 28.00
Width: 16.00
Length: 23.50
Color: White
Material: Wood
Style: Contemporary
Super durable Acrylic finish
Polished stainless steel hardware
Soft-closing doors & adjustable touch-latches on doors
This site uses cookies to enhance your site experience. By continuing to browse or use this site, you are agreeing to our use of cookies. See our privacy policy here.