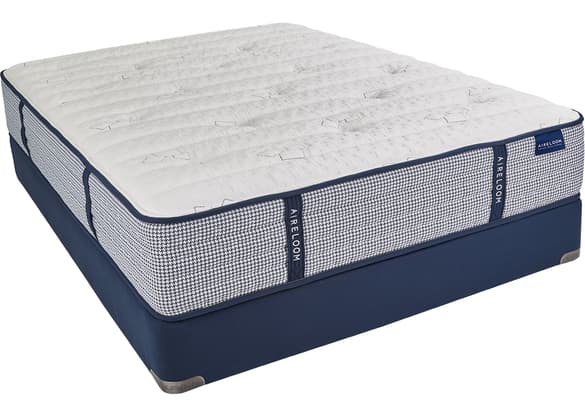 Aireloom Beverly Mattress
From the a firm support system to the supremely comfortable top layer, the
Aireloom Beverly Mattress

bring a new meaning to the term beauty sleep. Available at The RoomPlace, this gorgeous, high-quality mattress is designed and constructed with the finest materials available.
The Beverly mattress features a top layer that combines plush quilting foam, cotton tricot, high-loft fibers and a mingling of silk and wool. Comfort layers in the middle of the mattress consist of firm Aireluxe foam and Airebraid Performance fabric, designed to provide optimum relaxation throughout the night.
Features of the foundation include working support provided by a V-shaped, semi-flex grid and individually wrapped coils over 15 hand outer-tufts. Aireloom metal corner guards round off the support system, providing extra durability and class to an already sophisticated brand.
For Aireloom, the mattress-creation process is a labor of love. It's performed by true artisans who focus on every cut, every stitch, every piece of material that goes into making sure you experience the most comfortable night's sleep possible.
Each mattress features nothing but the finest materials, from hand-selected layers of cotton to Joma wool and proprietary premium foams like Energex, all designed to exceed your expectations.
With attention to detail from start to finish, Aireloom has poured years of craftsmanship into the art of mattress-making, so that you can experience an unmatched California-inspired sleep. Order your Aireloom Beverly Mattress from The RoomPlace today.
Height: 11.00
Width: 38.00
Length: 75.00
Channel StreamlineTM Firm Patented Aireloom LiftTM Outer- tufted, Handmade design Featuring: AiregelleTM
FABRIC/QUILT
• Ultra Conforming Knit with Tencel®
• Silk/wool fibers
• HiLoft FR fibers
• Plush quilting foam
• True-stretchTM cotton tricot
COMFORT LAYERS
• 3.5 lb AiregelleTM
• Firm AireluxeTM foam
• Firm AireluxeTM foam
• AirebraidTM Performance fabric
SUPPORT SYSTEM/FOUNDATION
• High density encased perimeter support
• Tempered 13 3/4 gauge, 7" Support-flexTM individually wrapped coils,
Over 15 hand outer-tufts
• King coil count 1,052 | Queen coil count 842
• Working support provided by V-shaped semi-flex grid
• Aireloom metal corner guards​