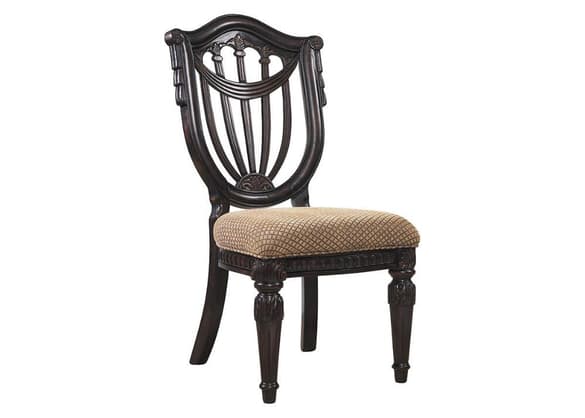 Grand Dining. Our Regency side chair brings 18th century inspired dining to your house with its sweeping curves. This elegant piece will help you recreate the sophistication of the finest manor homes of the 18th century. The chair seat is upholstered and cushioned providing comfort fit for royalties. Chair features wood detail representing a shield design enhancing the style of this chair. Cinnamon color makes this set ideal to combine with any dining room color scheme. The Rengency chair is the perfect addition to a traditionaly decorated living space, so get it today. The Regency side chair is the perfect addition to the Regency rectangular table.
Height: 44.00
Width: 27.00
Length: 22.00
Color: Cinnamon
Material: Faux Leather
Style: Traditional
Table Height: Standard
Two toned feature accentuate the veneer work.
Detailed ornamental work on chair legs.
Seat upholstered for extreme comfrot.
Follows18th century styling using a shield back design element.
Keep it clean - Dust and vacuum often using a crevice tool in seams.
for weekly dusting, use a clean, soft, lint-free cloth slightly dampened with distilled water and wipe area gently and wipe dry with a clean dry cloth.
Avoid direct exposure to sunlight. Direct prolonged exposure to the sun will cause material to fade.
keep furniture at least 12" away from radiators and other heat sources. Avoiding intense heat will help prevent drying and cracking.
For minor spots and spills, wipe up any excess liquid immediately with a clean absorbent cloth or sponge. Blot, do not rub the stain. Contact a professional cleaning service for more difficult stains or contact your warranty provider as soon as they occur.
Do not use saddle soap, cleaning solvents, furniture polish, oils, varnish, abrasive cleaners, detergent sofas, bleach or ammonia water.