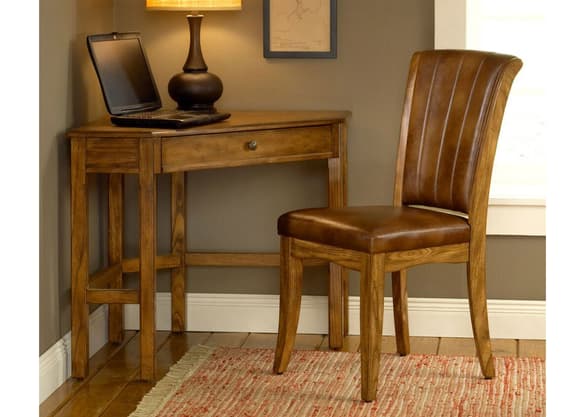 Solano Oak Desk and Chair
Need a space to pay bills, do homework, or work on your laptop, but don't have the room? The Solano Desk is the perfect solution for your living room, kitchen, bedroom, or den. Utilizing a small corner of your home, this desk fits unobtrusively into your space to create an ideal small workspace. The Solano desk doubles as a display or lamp table. Composed of solids and wood composites. Some assembly required.
Height: 44.00
Width: 24.50
Length: 38.50
Material: Wood
Style: Traditional
Use water-based cleaning products only. Do not use any saddle soap, because it will remove moisture from the leather/fabric. Regularly wipe down the leather/fabric furniture with a slightly dampened cloth. Depending on the climate where you live, use a leather/fabric cleaner and conditioner once or twice a month to preserve the beauty of the leather/fabric.