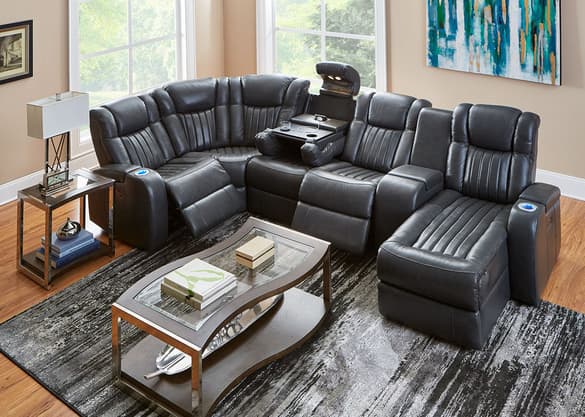 Tesla 6 Pc. Leather Power Sectional W/Entertainment Table
Package includes:
If purchased separately
Save
Our Tesla gray modular sectional is upholstered in a durable gray top grain leather. The sectional represents the future of living room furniture by combining functionality, style and modern technology. Headrest and power reclining are both operated through the easy touch button system. The sectional features drop down table with two cup holders, overhead light, two a/c adaptors and two USB ports. Each armrest also has pull up arm storage, perfect for storing remotes. These features allow you to connect all your devices to the set to optimize your experience. Easy to use power recline button also includes a USB charging port for ease of use. Six-piece sectional includes left arm power recliner, wedge, armless chair w/dropdown table, armless power recliner, console and right arm power reclining chaise.