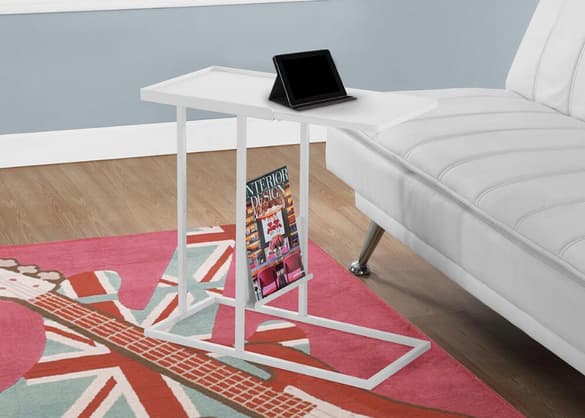 Trotwood White Accent Table w/Magazine Rack

Trotwood White Accent Table w/Magazine Rack
*This collection is on display at the below showrooms. Please call store ahead of time to ensure availability.
| STORE NAME | ADDRESS | MAP | PHONE |
| --- | --- | --- | --- |
Convenience meets practicality with this modern accent snack table with magazine rack. Sturdily built, featuring a modern white metal frame, this table is ideal for placing drinks, snacks, meals or media devices all while enjoying the comfort of your living room. The added feature of the magazine rack paired with an extra long surface top takes this snack table to a whole new level! Customer assembly Required. Special Order. No Returns allowed.
Height: 24.00
Width: 24.00
Length: 12.00
Ideal for holding drinks, snacks or media devices
Sleek styling to blend easily with any decor
Features a magazine rack
Sturdy construction
This site uses cookies to enhance your site experience. By continuing to browse or use this site, you are agreeing to our use of cookies. See our privacy policy here.