The RoomPlace Story
Proudly Serving Illinois & Indiana Since 1912
For over a century, The RoomPlace has been helping Chicago and greater Indianapolis residents design the homes of their dreams. Our roots date back to 1912, when Sam Berman founded Harlem Furniture, bringing furniture directly to customers doors in Chicago. Now, with over 25 locations across Illinois and Indiana, The RoomPlace serves a much wider base of furniture shoppers with the same commitment to meeting personalized tastes. Over the course of these hundred odd years, we have always remained a family-owned and community-oriented businesses, bringing our customers exquisite furniture at affordable prices.

Apart from offering great value and service, The RoomPlace has set itself apart by bringing a total-room concept to furniture shopping providing fully coordinated room sets curated by a team of experienced designers. With the continued support of our customers, we are looking into the future with marketing and development plans aimed at continued growth throughout the Midwest.
Invested in Our Communities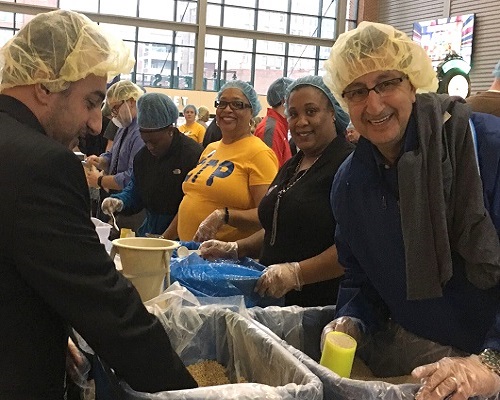 Headquartered in Lombard, IL, The RoomPlace has found its place within communities in Chicago, Indianapolis, and many other cities across Illinois and Indiana. Apart from providing comprehensive furniture solutions to our customers, we are also committed to becoming a part of the communities we serve. With family values at the core of our culture, we believe that a community is as strong as its unity. That is why we work with organizations including the Make a Wish Foundation, the Chicago Bulls, the National Multiple Sclerosis Society, and more to enrich and support the neighborhoods that we call home.

Having been part of Chicago and Indianapolis communities for over a century, we have developed strong relationships with our valued customers. Through our comprehensive financing options and protection plans, we find our customers find the furniture they need without breaking their budget. Visit one of our locations today and find out why customers across the Midwest choose The RoomPlace as the place to Get It All!
Find a location near you
---
Web Specials: Ships Fast. Ships Free
It is now easier than ever to go from browsing to owning your next piece of great furniture. In our online exclusive Web Specials, we not only guarantee beautiful furniture at great value, but also FREE shipping anywhere in the US! Whether you're redesigning your dining room with a brand new dinette set, or looking to give your kids' room a colorful makeover, focus on finding the right furniture and leave the rest to us. Our Web Specials products are already listed at low prices and with free shipping, the savings just keep adding up. From sleek accent tables to comfortable beds, browse through our Web Specials collection and get the perfect addition to your room delivered straight to your door.
Search All Web Specials
---
Find the Furniture that Fits Your Style
At The RoomPlace, we understand that finding the right furniture is all about matching and enhancing your home overall style. That is we carry furniture that span a wide range of designs. From the comfortable styles of classic country to sleek, minimalist, and chic modern designs whatever style you have envisioned for your home you're sure to find the matching furniture at The RoomPlace.

Browse through our furniture categories below and be sure to check out our full room packages. From stylish bedroom sets to cozy sectionals, The RoomPlace is your furniture store to Get It All!
Search All Furniture