Headquartered in Lombard, Illinois, The RoomPlace Furniture and Mattress has found its place within communities in Chicago, Indianapolis, Kenosha, and beyond. Apart from providing furniture selection and value to our customers, we are also committed to becoming a part of the communities we serve. With family values at the core of our culture for over 105 years, we believe that a community is as strong as its unity. That is why we work with organizations including the Ronald McDonald House, Make a Wish Foundation, the charitable endeavors of both the Chicago Bulls and the Indiana Pacers, and so many more to enrich and support the neighborhoods that we call home.
Thanksgiving at Pacific Garden Mission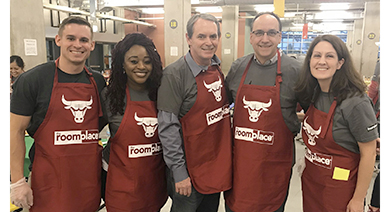 For the17th year, Bulls players, executives, coaches, broadcasters and front office staff along with The RoomPlace executives and staff served Thanksgiving dinner to hundreds of men, women and children at Pacific Garden Mission.
Check out the full video here: https://on.nba.com/2XXl65N
New Mattresses for Lincolnwood Firefighters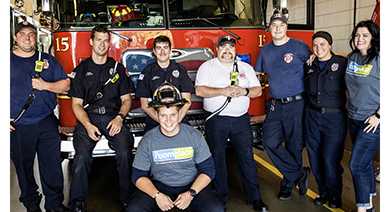 This past summer The RoomPlace was delighted to be able to outfit the entire brigade at the Lincolnwood Fire Department with brand new luxury mattresses. The mattresses that the firehouse staff were using were in desperate need of replacement. The RoomPlace was honored to come to their rescue.